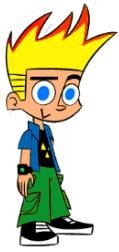 Johnny was a narastic troublesome boy. He was Susan and Mary's brother and Hugh and Lila's son. He was voiced by James Arnold Taylor.
Appearance
Edit
Johnny has yellow hair with scarlet red highlights and he has bright blue eyes. He was seen wearing a navy blue short sleeved dress shirt, a black t shirt, green pants, and black tennis shoes. His swimwear was orange, yellow, and dark pink swimming trunks. And his disco outfit was a navy blue t shirt, red pants, a light blue and light gray cap, a yellow collar, a green sash, black glasses, and bright blue shoes.
Alternate outfits.
Edit
Sleepwear - Light cyan blue pajamas and purple slippers.
Alternate sleepwear - Dark grayish black pajamas with bright yellow radio active symbols.
Western outfit - Green t shirt, blue and brown pants, brown vest, red bandana, usual tennis shoes, and brown cowboy hat.
Early 50s outfit - Red t shirt, dark pink vest, gray pants, and bright gray tennis shoes.